Shelf Life Extension and Anti-microbial Protection
BioFresh® JMS provides bactericidal, fungicidal and sporicidal protection as well as pH stability in Jams, Marmalades and Syrups enabling a longer shelf life without affecting the organoleptic and sensory properties with no loss of nutritional value.
All the ingredients we use are European Union and FDA approved, Gras status, label friendly, protecting the original taste, colour and texture of your food products.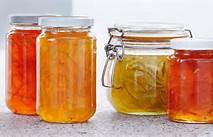 FoodCare® FCSJMS is an innovative, white to pale cream powder Sterilant.

7A FoodCare® FCSJMS Information and MSDS